!-- Facebook Pixel Code -->
It's such a great instant pick me you for your skin and all skin types. At Xara Skin Clinic, we supercharge our oxygen facial. Using high pressure oxygen to pump serum into your skin. It gets more serum into your skin faster and delivers near instant results. Perfect.
Look younger - better - great results
Oxygen facial has been around since 2002. It is well known after A-List stars. Such as the stars of Sex and the City, Madonna, Katy Perry etc. Many ladies are probably very familiar with regular facials. Where the skin is analysed, cleansed, exfoliated and stripped of all impurities. However oxygen facials delivers a different beauty experience. It delivers beauty results that need to be seen to be believed.
The Skin Rejuvenation Treatments
Oxygen facials can be given with or without serum. The serums are clinic strength and full of active ingredients. It involves blowing high pressure oxygen onto the skin. Serum is applied before the oxygen, the serum is pushed into the skin. The result of a combination of oxygen and serum are more serum, faster action.
The Oxygen Serum Skin Treatments
1. Rejuvenating - Anti-Aging Skin Treatment
We use our world class Hyaluronic Acid and Matrixyl 3000 Intense Anti-Aging Serum
20% decrease in depth of wrinkles
23% decrease in volume of wrinkles
33% decrease in wrinkle density
2. Smoothing - Botox™ Non-invasive Therapy
We use our world class Argireline Hyaluronic Acid Matrixyl 3000 Serum
20% decrease in depth of wrinkles
23% decrease in volume of wrinkles
33% decrease in wrinkle density
Plus the benefits of Argireline
3. Radiance - Sun Damage Healing Treatment
We use our world class RETINOL Vitamin A Serum
Prmps skin cells for fine lines & wrinkles
Improves mottled pigmentation
Photo damaged skin
Low skin elasticity
Improves acne skin and acne scarring
Improves skin tone and colour
These really are fantastic serums, see the results yourself.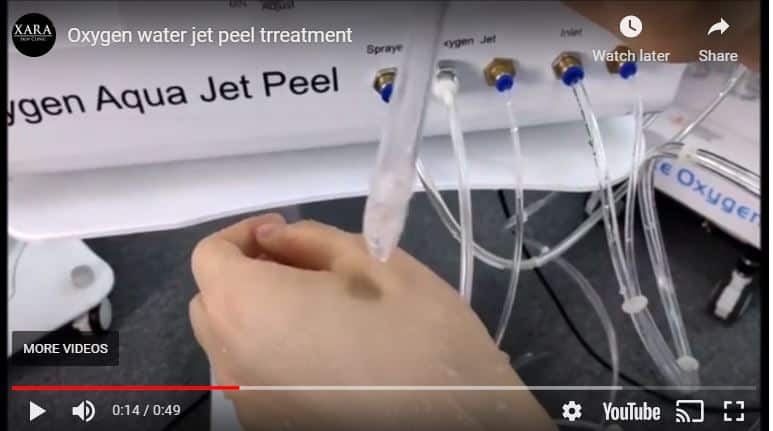 Our fantastic oxygen aqua jet skin peels, deep cleansing remove dead skin cell
Double cleanse deep cleansing skin rejuvenation
Don't go past these Great Treatments
Check out these Fantastic Products
4. Youthful Glow - Anti-Aging Therapy
We use our world class DMAE & MSM SERUM
The combined use of Dimethylaminoethanol (DMAE) & Methylsulfonylmethane (MSM). Is a proven powerful way to quickly firm skin, reduce wrinkles and a smooth complexion.
It helps your skin quickly mend itself. Firms up stressed and oversized pores in the face. This gives your skin a clear surface which creates a youthful glow. Using our powerful beauty serum. You can have fresher, younger looking skin in a matter of weeks!
5. Clarity - Lightening, Acne, Hyper-pigmentation
We use our world class NIACINAMIDE B3 SERUM
Acne reduction
Skin firming and toning
Skin Lightening
Reduces Age Spots and Sun Spots
Corrects Hyper-pigmentation in Skin
Anti-Ageing Wrinkle Reducer
6. Detox – Lightening, Acne, Hyper-pigmentation
We use our world class VITAMIN C, E, HYALURONIC ACID Serum
Ageing Skin
Dry/Combination Skin
Age Spots/Hyper-pigmentation
Free-Radicals
Daily damage/debris
Acne and Acne Scars
Free consultation, book online or over the phone for these facial treatments.
Come in to Xara Skin Clinic ™
Talk to us today about starting your fine lines and wrinkles body treatments skin today. For an all over whole body experience come and see us. Come and relax in our opulent ambiance, welcoming staff, the scent of essential oils, calming music, the soft cool breeze. For world class, exclusive treatments and products, we are the beauty and skin care experts.
There are four free Council car parks in the Lane Cove village. Parking should not be a problem. Please pay us a visit. We are, Xara Skin Clinic™ access via Birdwood Lane. We are the Sydney's best secret.