If you would like to hydrate your skin we can help you ring us now
$69
Product Description
The number one filler used by dermatologists with hydrating peptides. Turn back your skins time with hyaluronic acid.
Hydrates the skin for eight hours
Plumps your skin reducing the appearance fine lines and wrinkles.
Reduces dull lifeless skin
Gives skin a youthful and healthy glow
Reduces fine lines around the eyes, forehead and mouth
Increases the elasticity and strength of the skin
For firmer-looking skin.
Decreases pores size
Firms and lifts sagging skin
Reduces inflammation for dry or irritated skin
Great for eczema
Stimulates collagen by up to 300% and increases elastin
Re-hydrate and moisturise the skin​
Gives the skin a softer and smoother texture
Give the skin a even tone
Reduces redness
Results you can see
Seeing results in 5 days or less, with dramatic results in just a few short weeks of regular use.
You should feel a difference even after the first use.
Bringing moisture at a cellular level rather than moisturising the skins surface.
Gentle for even the most sensitive skin, reduces inflammation and improves circulation.
Turning to Injections is not really necessary if you treat the cause.
This highly concentrated hyaluronic acid serum with peptides naturally fills in fine lines and wrinkles around the eyes, forehead and mouth. Smooth the skin surface and restore elasticity.
Hyaluronic acid quickly absorbs into the skin. it is non-greasy, non-oily (will not clog pores) and safe for all skin types.
Simply put, it has the remarkable ability to hold nearly one thousand (1,000) times its weight in water. That's how HA contributes to the thickness of skin; it inflates with water. Few ingredients are as safe, versatile and effective. A natural constituent of skin itself, HA enhances moisture and plumps skin.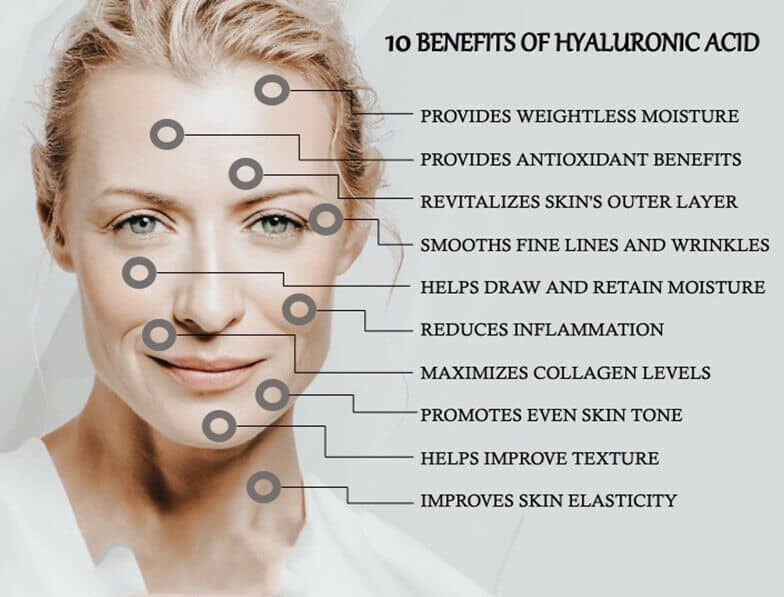 Suggested Use
After cleansing and toning as usual, apply a small amount of serum to damp skin, morning and night. Apply to any skin areas on the body or face, paying particular attention to areas where fine lines are visible. Gently smooth until thoroughly absorbed. The serum rapidly penetrates the skin leaving no greasy or oily residue. For best results follow up with your favourite nutrient-rich moisturiser. Make-up and other cosmetics may be applied after the serum.
60 ML airless pump
Ingredients
Hyaluronic acid, peptide complex with Matrixyl 3000 and vitamin E
No parabens, sulphates or fragrances –  It has not been tested on animals.
Other options
dry skin dehydrated skin face serum dry skin hyaluronic acid best sellers oil care body shipping
free hydration eye plump care helps barrier day long hyaluronic acid hydration free