!-- Facebook Pixel Code -->
IPL laser freckle removal treatment Sydney best #1 get rid
IPL laser freckle removal treatment Sydney best #1 get rid. We have two effective freckle treatments. YAG pico-second laser, E-light and IPL freckle treatments. Come in and talk to us about which skin care pigmentation treatment is best for you. Say goodbye to your freckles and get a new more confident look.
YAG Laser
Laser is a type of light that carries only a specific wavelength, as opposed to visible light that carries a range of wavelength. Laser waves are parallel to each other and all waves in the same phase. Visible lights are not parallel and do not move in the same phase. There are many lasers in the market. The YAG laser gets its name from the laser medium, Neodymium:yytrium-alumunium-garnet.
It comes in 2 wavelengths, 1064 nm and 532 nm. It is a non-ablative laser treatment, that mean it does not remove the top layer of tissue or break the skin. The wavelength is such that pigments (melanin) absorbs the light in preference to other tissue. The resultant heat will cause generation and propagation of waves that cause damage to the cells containing pigment. The damaged cells will then be cleared from the area which results in lightening of the pigmented site.
How does IPL work?
IPL systems release precisely controlled strong pulses of filtered light. The light is very strong and heats up melanin in skin very quickly. The pulse of light is very short, so short the surrounding skin does not heat up.
The Treatment
The skin is cleaned and the IPL or laser is aimed at the area requiring treatment and fired at the freckle. The firing of the IPL or laser treatment should not hurt, it is tolerable for most customers. It is more like a flick from a rubber band. The melanin in freckles absorb the IPL or laser treatments. The freckled area absorbs the light and gets hot. The heat breaks up the melanin which the metabolic process removes. After the IPL treatment, the freckled area turns darker and may crust.
Over a period of weeks, the freckled area will gradually flake away from the skin. Leaving little trace of the original mark, resulting in freckle treatments. Post treatment an antibiotic cream maybe be applied. The customer should avoid abrasion to the area and apply a sun block.
The whole sun damage treatment is very quick for each freckle.
For the record there is no wrinkle injections dermal fillers lip enhancement, skin needling here, ask us about a better way. Why in this day and age would someone what that?
Talk to us today about your freckle treatment
Other great treatments
repair damage from sun exposure better skin tone
diode laser hair removal laser
not one cosmetic injectables in sight
great products to prevent sun damage face neck and body
laser pigmentation removal treatments
double chin removal
picosecond laser tattoo removal
acne scars treatments
skin peels for fine lines
no gummy smile excessive sweating required
gift cards
LED light therapy
laser IPL (Intense Pulsed Light) treatments
skin treatments skin peels
and much more
skin pigmentation removal for your skin concerns
References
Don't go past these Great Treatments

Check out these Fantastic Products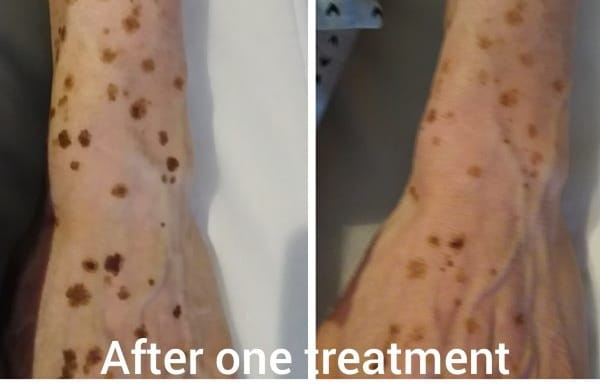 Pigmentation laser treatment of your skin concerns
No medical grade cosmetic injectables anti wrinkle injections they are not anti ageing. Our treatments fix the problem rather than hide it.
We are that great clinic down the road from you that delivers the safest most effective treatments for you.We do that but having the best and latest equipment. The staff that know how to give you the best outcome. Simple really, yet other clinic just don't get it.
Come in to Xara Skin Clinic ™
Talk to us today about starting your laser tattoo removal or laser hair removal skin treatments today. For an all over whole body experience come and see us. Come and relax in our opulent ambiance, welcoming staff, the scent of essential oils, calming music, the soft cool breeze. For world class, exclusive treatments and products, we are the beauty and skin care experts.
There are four free Council car parks in the Lane Cove village. Parking should not be a problem. Please pay us a visit. We are, Xara Skin Clinic™ access via Birdwood Lane. We are the Sydney's best secret.
IPL laser treatments to remove your freckle Sydney best #1 get rid
IPL laser treatments to remove your freckle Sydney best #1 get rid. Why not come in for a free consultation and see what we can do for you. Let us help you.
Service Type: Free consultations
Currency: AUD