!-- Facebook Pixel Code -->
Controlled cooling body sculpting treatment
Do you have hard to shift fat or hard to move fat? Would you like to target an area to get rid of unwanted fat? We are the experts in skin care body sculpting reducing fat in Sydney. Our cool sculpting treatment is second to none. We can remove your muffin top, flatten your belly. To get rid of your fat that is not wanted and get long term results, it is also a cellulite treatment. Our non-surgical non-invasive freezing fat machine is effective. We know we use it on ourselves. Our photos are of real people using our machine. The treatments skin reducing fat results are real.
Consultation for free
We offer a body sculpting consultation where you get a treatment plan. We identify the body sculpting treatments area and areas of the body to treat. Go over the what the treatment feels like and any possible side effect and recovery. You get to ask an expert any questions. If you decide freezing fat is not for you. We can offer other effective non-surgical non-invasive reduce fat treatments. Such as laser liposuction or fat cavitation. As we have stated we are the experts in the field.
Make your book a free consultation today 02 9420 9777 at Xara Skin Clinic and Beauty Salon.
Please remember if you are unsure of a treatment or have questions, all you have to do is ask our expert staff. We are here to help you and; We make you look and feel fabulous.
Healthy lifestyle
While we encourage our customers to have a healthy lifestyle. Sometimes diet and exercise is not enough to move fat from those hard to move areas. You might require a little help. You will be happy
The process
The process of freezing non-invasive fat treatment is quite simple. Fat freezes at a higher temperature than other cells. The body contouring freezing fat machine is under computer control to deliver precise warm and cold temperatures.
It lowers the temperature to the point the fat cell freezes. The fat cells die ready for the body to remove via the lymphatic system  and metabolic process. It takes a few weeks for the body to remove the dead fat cells. Diet and exercise can help accelerate the process.
Good news
There is more good news, the freezing non-invasive treatment is also a skin tightening treatment. Ask us about our double chin sculpting.
Side effects
It's cool around the treatment area, it will be red until the skin warms. In rare cases there can be some bruising, when there is not enough fat.
Make a booking for a free consultation
Book your complimentary consultation, you can book online or over the phone. Experience the Xara Skin Clinic difference today. Each year we spend up big on the lastest and what we think are the best machines on the market. We it comes to machines price is the last thing we think about.
If fact in the last twelve months we purchased ten new machines. From our fantastic hydro oxygen jet facial peel machine to our four pad EMS machine. When you come and see us parking should not be a problem. We are across the lane way from five hundred most three hours free parking. Just drive to The Canopy and take the North end lift and you will find us.
Weight loss from fat removal Sydney fat freezing treatment #1
Weight loss from fat removal Sydney fat freezing treatment #1. At Xara Skin Clinic, we provide the safest most effective removal treatments, for you.
Service Type: Free consutations
Currency: AUD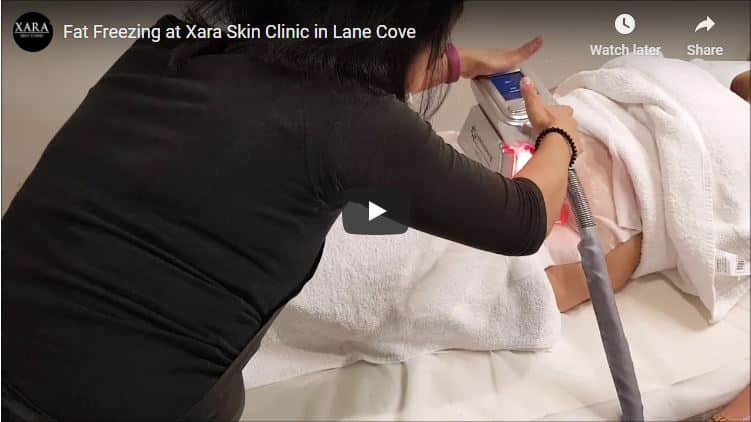 Wonderful treatments to remove non-surgical fat safe and effective
Freezing fat vs liposuction
The consulting procedure  has many advantages over invasive reduce fat such as liposuction. One of the problem with liposuction is you get left with pockets of fat, which makes little lumps. There is little risk of damage to tissue. Little or no risk of infection. Zero down time, walk in get the treatment and walk out. It is a very cost effective treatment, compared to liposuction. Non-invasive non-surgical fat reduction really is the way to go.
Give it a go, we can treat double chin with our skin tightening treatments. Don't forget to check our specials page for great deals on diode laser hair removal, body shaping and much more. All this without the need for any medical grade voodoo or chicken bones.
For more information on click here
Other wonderfull treatments
skin rejuvenation
cellulite reduction and cellulite treatment
and much more near the Sydney CBD
For the record we don't have medical grade anti wrinkle injections dermal fillers, Why? Because we have treatments that fix the problem rather than hide it.