Rosacea facial vein removal treatment Sydney #1 safe effect
Rosacea facial vein removal treatment Sydney #1 safe effect. The face is really the last place you want unsightly red vein problems. People always look at your face. Make a booking today to safely and effectively remove your rosacea facial veins. Lift your self-confidence.
We have three treatments, laser, E-light and IPL. E-light uses a combination of IPL and RF, two treatments in one. E-light is probably our preferred option, but everyone's skin is different. We will help you choose the best treatment for you. If you are not sure book in for a free rosacea removal consultation.
The Treatments
The three treatments are laser, E-light and IPL. They are all safe and effective treatments. Book a free rosacea consultation and we can discuss the merits of each treatment. We can answer any red vein removal questions and give you a price for each treatment. If you decide to go ahead, we will ask some medical history questions. If you are suitable, we will ask you to fill in and informed consent form and start the treatment.
How Does It Work?
The YAG laser, E-light or IPL is fired at the facial veins area, the veins are heated up and destroyed. The tiny particles are then easily processed and eliminated by the body. Most customers undergo a ten-minute rosacea removal treatment. A mild to moderate irritation of the overlying skin is to be expected for a few days to a week. Depending on the depth and amount of rosacea to be removed.
What can I Expect?
The reduction or removal of unsightly red facial veins, may greatly improve one's sense of confidence and self-esteem.
Safety and Side Effects
This rosacea removal treatment has a very good track record for safety and precision. The facial vein area could become slightly irritated for a few days to a week. Side effects are rare and generally temporary. The specific risks and the suitability of this treatment. For an individual can be determined, only at the time of consultation. Minor complications that do not affect the outcome occur occasionally.
 What is the Recovery Time?
Customers who have had facial red vein removal treatments may take a few days off work. While those that have body, hands or other areas treatments usually return to their normal activity the next day.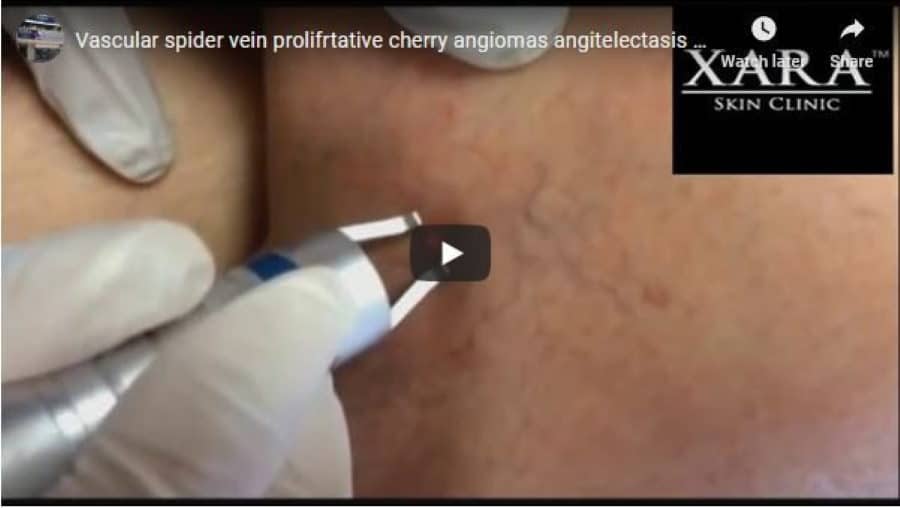 Rosacea facial vein removal treatment #1 safe effect
Save Time and Money
We have the very latest in 980 lasers, why is that important? Because the 980 laser in most cases can remove veins in one treatment. Which saves you time and money.
References
Medscape – Laser Vein Treatments
Don't go past these Great Treatments

Check out these Fantastic Products

Will it Hurt?
YAG laser, E-light or IPL treatments cause a slight sting. Anaesthetics is not a normal requirement for most customers. However, those with very sensitive skin may apply a numbing cream 30 minutes before the treatment.
Post Treatment Instructions
Wash the area with a mild soap and gently dry, apply a moisturizer to the skin. Avoid excessive sun exposure and tanning for one week after your treatment. Customers who undergo the treatment to remove facial veins should consider the use of Vitamin K cream and sunscreen after the procedure.
Book a free consultation today
Come in to Xara Skin Clinic ™ in Lane Cove on the North Shore
Talk to us today about starting your treatment today. For an all over whole body experience come and see us in Lane Cove on the North Shore. Come and relax in our opulent ambiance, welcoming staff, the scent of essential oils, calming music, the soft cool breeze. For world class, exclusive treatments and products, we are the beauty and skin care experts in Lane Cove on the North Shore.
There are four free Lane Cove Council car parks in the Lane Cove village. Parking should not be a problem. Please pay us a visit. We are, Xara Skin Clinic™ Lane Cove, North Shore access via Birdwood Lane. We are the North Shore's best secret.