!-- Facebook Pixel Code -->
You no longer have to live with a Tattoo you regret
Our highly-trained laser tattoo removal clinic technicians. At Xara Skin Clinic in Lane Cove performs safe, efficient and affordable painless laser removal of your tattoo removal process laser treatment. Using our state of the art leading tattoo removal technology. We offer you a free consultation, our customers highly recommend us.
The results will depend on the tattoo, the colour, size, location and application. Our painless tattoo vanishing technology is unmatched in effective removal. With minimal scarring, damage to surrounding skin regardless your skin colour and skin type. It allows minimal discomfort and harm to your skin. Our tattoo laser treatment system produces a pulse of energy that targets the ink, beneath your skin, causing it to gradually dissolve. Over the case of several treatments, your tattoo will simply and painlessly vanish and your tattoo in gone.
How does painless removal of tattoos work?
The laser works on the principle of selective photo thermolysis. Delivering a selected wavelength of light. In an extremely short period of time at a very high energy level. This allows for the energy to selectively target specific tattoo pigments. It shatters the ink into smaller ink particles in the treated area. Which the body's immune system will remove in a period of two or three weeks.
How many treatments will I need?
The cost and number of tattoo removal specialists. Will depend on the amount, colour, depth, type of tattoo ink, location and how the tattoo was put on. Professional tattoos may require ten or more treatments but, in most cases, just three. While self-applied tattoos may fade after only few procedures. Tattoo removal prices vary for each tattoo. Tattoos located on the extremities, such as fingers and ankles, generally take the longest to clear. Each treatment is 5 – 9 weeks apart. To allow for maximum clearance of the treated pigment.
Come in and ask us for a quote, book online.
WHAT DOES IT FEEL LIKE?
The sensation of the laser is like a soft rubber band flick to the skin. It is painless but not pleasant, but very short. It is not as bad as getting a tattoo. The treatment usually takes just a few minutes. We offer pain free removal for all tattoo colours, blue and green, your tattoo we offer completely remove your tattoo.
Will there be any scarring?
The vast majority of customers do not develop any scars. But some people may experience a minor textural change. We can remove scars and minor textural with Thermagie-CPT, HIFU or another scar treatment.
What happens after the treatment?
There may be some pinpoint bleeding with scab or blister forming. You should apply an antibiotic dressing daily until the area heals. You may wash or bath normally. We suggest you minimise vigorous activity for a few days to help it heal.
Free consultation
Where we get you to fill in a form with your medical history to find out if you are suitable. We then put together a treatment plan, where we can get asked questions. Then explain any side effects and what is involved in post treatment recovery.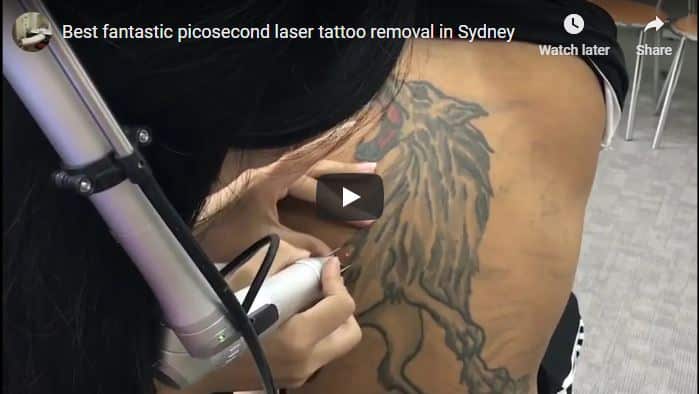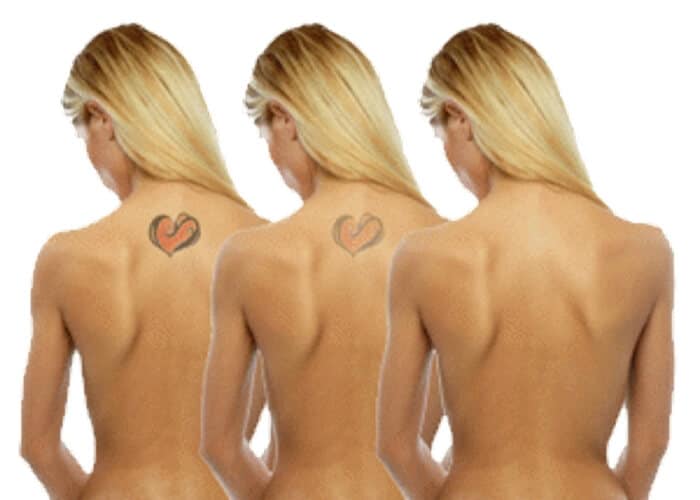 Say good bye to a bad tattoo

We save you time and money
How do we do that? By having the latest in lasers, only with the latest laser can we deliver the safest most effective treatments. Which mean better results, less treatments saving you time and money.
References
Don't go past these Great Treatments

Check out these Fantastic Products

We will save you time and money
We do that by having the latest in equipment, only with the latest equipment can we deliver the safest and most effective treatments. Which means you get better results from less treatments, saving you time and money.
Ring us today and make your booking.
For an all over whole body experience come and see us in Lane Cove. Come and visit us, customers who require more than one treatment, ask us for a package price. We are one of the Sydney's best kept secrets.
Unwanted tattoos initial consultation with gift cards and much more. Unlike the Sydney CBD we have stacks of free parking.
Come in to Xara Skin Clinic ™
Talk to us today about starting your laser clinic removal treatment today. For an all over whole body experience come and see us. Come and relax in our opulent ambiance, welcoming staff, the scent of essential oils, calming music, the soft cool breeze. For world class, exclusive treatments and products, we are the beauty and skin care experts.
There are four free  Council car parks in the Lane Cove village. Parking should not be a problem. Please pay us a visit. We are, Xara Skin Clinic™ access via Birdwood Lane. We are the Sydney's best secret.
Come and see us, we are one of Lane Cove's best secret. We are one of the best, one stop beauty salons and skin care clinic's in Sydney, if not all of Sydney.