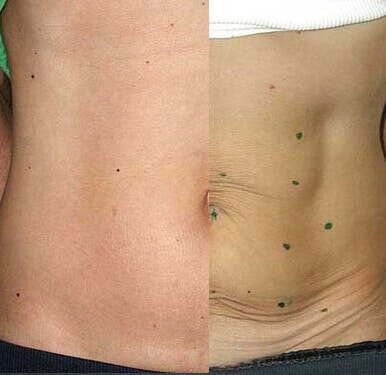 Why Thermagie-CPT is great for Younger Looking Skin – What is Thermagie-CPT
What is why Thermagie-CPT is great for younger looking skin
Our customers often ask is what is why Thermagie-CPT is great for younger looking skin ?Let's start with what is Thermagie ? See the before and after images above.

What is Thermagie-CPT, Thermagie CPT is a state of the art radio frequency treatment. Thermagie CPT is the brand name for the machine that carries out the treatment. Over many years Thermagie CPT has made a name for its self. Because the results are fantastic. It has a trusted name for getting day one results which keep coming for months and last for years. Customers walk in and in an hour or two walk out a younger looking self.
How Does It Work ?
There is a device that looks a little like a gun. At the pointy end, there is a square that is about 2cm square. The square is held against the skin and a shot is fired. The process continues until the whole area is treated. Some areas will get more than one shot. A gun I hear you say, sounds nasty. Does it hurt? The answer is no it should not. Different areas have different sensitivity and we adjust the strength accordingly. To give you the maxi min benefit. During the treatment, the customer will be asked if there is any discomfort.
What does it do ?
The Thermagie CPT non invasive skin tightening treatments stimulates activity under the skin. It starts the underneath the skin to regenerate and produce collagen. The effect is a little like a cloths iron but for your skin in a single treatment.
it evens out the skin
reduces or removes fine lines and wrinkles
stimulates collagen and elastin
reduces or removes stretch marks
lifts sagging skin for a younger looking appearance
radio frequency skin tightening
face neck and body treatment for all skin types
improves the skins elasticity
non invasive treatment for the appearance of cellulite
creates deep collagen rich layers
can remove scars and scarring
improve definition face and body skin care
reduces pore size as does our cold hammer which has a cooling sensation
non surgical facelift skin tightening treatment
radio frequency energy for patient comfort
tummy tuck
Younger Looking Skin ?
With the list of benefits above it's not hard to understand why Thermagie is great for looking younger. It counter acts ageing and the results of aging;
lack of elasticity in the skin
wrinkles and fine lines
face and body treatment
less collagen
enlarged pores
sagging skin
What is Thermagie fractional RF, in effect Thermagie-CPT is and anti-ageing machine that helps create a younger looking you. Come in and see us about starting your Thermagie-CPT treatment today. You are worth it.
What is why Thermagie-CPT is great for younger looking skin
What is why Thermagie-CPT is great for younger looking skin. If you want to know how to combat the signs of ageing and help turn back time?
Service Type: Free consultations
Currency: AUD