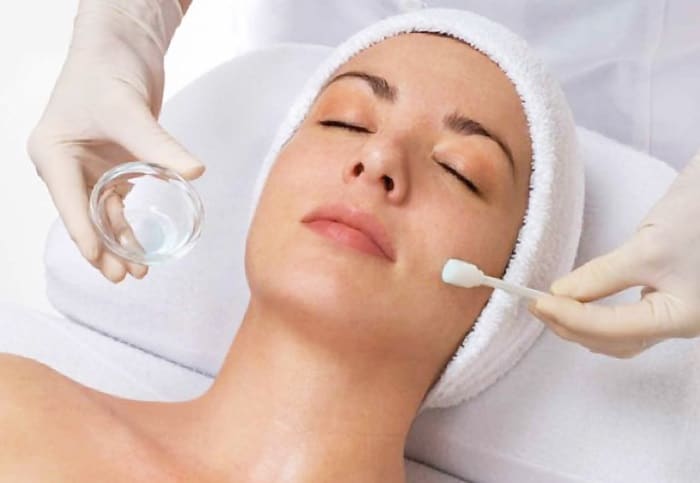 Lactic Glycolic Acid Facial Body Chemical Peel Sydney
Lactic Glycolic Acid Facial Body Chemical Peel Sydney
For those of you that haven't experienced a peel, you don't know what you are missing. It really is a great anti-ageing treatment for the face and body. Yes, I did say body, neck, hands and really anywhere there is a problem. It really is great for wrinkle removal, acne, acne scar removal and much more. What a peel does is gentility take away dead skin and the top layer of skin.
There are different peels starting from lactic acid and fruit peels. That not only a peel nourish the skin, it is used to treat and number of skin complaints. A great way to finish off a peel is with oxygen serum therapy and then light therapy. If you don't know about those treatments click on the links below. After a peel a moisturiser is applied to the skin and a sun block.
Related are clay masks and other peels, if you can't see what you are looking for please ask. Not every treatment is on the website.
Scope of the treatment
Stimulate the production of collagen

It evens out skin tones, lightens and brightens the skin

Promotes healthier and younger looking skin

Smooths and rejuvenates the skin

Ex-foliates the skins surface removing dead dull looking skin

Improves the skins hydration resulting in more moisture and better texture

Great for hyper-pigmentation, melasma and rosacea

Treats skin discolorations, sun/age/dark spots
WOW, does it really do all this? Yes, in most cases, why not book in for a free consultation. Everyone's skin is different and when you come in you can get and experts advice on what treatment is best for you and your skin.
It uses the power of oxygen blown across the skin to push the serum into the skin. You get near instant results you can see. Click on the link above to learn more.
This really is the Swiss Army knife of the beauty and skincare world. Click on the link above to learn more. Lactic Glycolic Acid Facial Body Chemical Peel Sydney.