!-- Facebook Pixel Code -->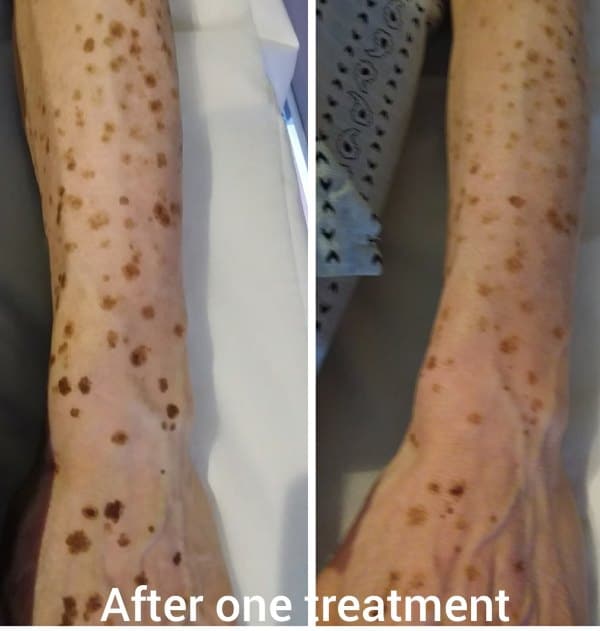 Sun age liver spots pigmentation Sydney removal before after
Sun age liver spots pigmentation Sydney removal before after
If you are looking a bit like a Dalmatian*, it doesn't have to be that way, it's not hard to remove the spots. We are experts in pigmentation removal Sydney, we have the latest in laser treatment and the experts that know how to use them.
Our customer was so happy with the results after just one treatment she sent us photos of the results. You too can get the same sort of results in just one treatment.
Why not come in for a pigmentation treatment free consultation? Get a package price and be on your way to spot free skin. It really is that easy, after the treatment you will be kicking yourself and thinking why didn't I do it years ago.
* Please note we can't remove spots from Dalmatians, only people.
For more Information
For frequently asked questions book a free consolation and you can ask them to an expert for free.
Other great treatments
skin care for sun spots from sun damage
laser treatments skin treatments pigmentation removal treatment
laser skin care laser treatments for most skin types
remove skin pigmentation age spots from sun exposure
treat pigmented lesions, brown spots removal treatments
age spots sun damage pigmentation treatments
skin pigmentation treatments for your skin type
skin treatments serums with clinic strength active ingredients
skin health form deep cleansing
facial peel or acid peel for skin health
and much more
If you are looking for laser tattoo removal laser, acne scars removal, or led light therapy you can find them here. We have some great specials on skin rejuvenation, LED light therapy and acne scars removal prices and skin treatments right now.
The photo doesn't lie
At Xara Skin Clinic laser clinic you get real treatments and real results. We aim to give you the safest most effective laser treatment. That's who we are and what we do. Why not see for yourself? Why not book a free consultation? We have stacks of most three hour free parking at The Canopy.
You can book online or over the phone. Then look at the problem, agree on the treated area, put together a treatment plan. You can ask an expert questions and know what to expect. We go over and possible side effects and what needs to be done post treatment.
For the record we don't do cosmetic injections fillers lip, skin needling nor do we do any other medieval torture, why because time has moved on and there are better more effective treatments without the risk.
For those that don't know what needling skin is, it's a roller with hundreds of needles sticking out of it. Why would you go through the pain and wait for weeks for it to heal, plus the risk of infection? When we have treatments such as above that gives you better results.
Sun age liver spots pigmentation Sydney removal #1 best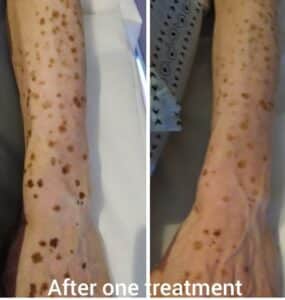 Sun age liver spots pigmentation Sydney removal before after. If you are looking a bit like a dalmatian, it doesn't have to be that way, it's not hard to remove
Service Type: Free consultations
Currency: AUD