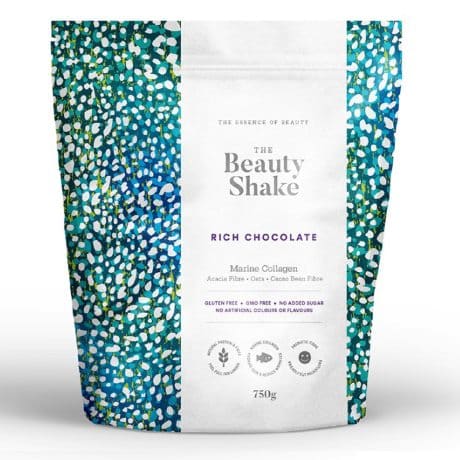 What if I said you could loose weight and look better?
What if I said you could loose weight and look better?
Well you can with our new collagen shake, which is backed by scientific research. Loose weight and tighten the skin, remove or reduce fine lines and wrinkles. All with a great tasting shake, at $3 dollars a serve. Yes, that's right, less than a cup of coffee. While it is not designed to replace all meals, it can replace single meals in your day, how good is that. We are finding the moment our customers hear about it, the packet is sold.
We are waiting for the great feedback and will update you when we get it. We have only started stocking it at the start of the week and we have already sold a box, before we could get it on our website.
Here's what it does
One serving provides 20 gm of protein, 10 gm of fibre. 3.5 gm of collagen, yes an unheard of amount and all with 120 calories. It is an excellent source of fiber, support gut health, promotes skin hydration, helps to reduce fine lines and wrinkles, all while helping you loose weight. While the protein helps you feel full for longer.
How to enjoy it?
While there probably are a million ways to enjoy it, the simplest way might be here; add 37.5 gm or two heaped scoops to a blender or shaker and add 250 ml of skimmed milk or low fat milk with some ice. It really is that easy and at 43 a serving, it at a great price.
What if I said you could loose weight and look better.
Collagen is and anti-aging compound you really can't get enough of, unfortunately you loose it as you get older. replacing it is a good way to look younger and when you look younger you feel younger.
Come in to Xara Skin Clinic ™ in Lane Cove
For an all over whole body experience come and see us in Lane Cove. Come and relax in our opulent ambiance, welcoming staff, the scent of essential oils, calming music, the soft cool breeze. For world class, exclusive treatments and products, we are the beauty and skin care experts in Lane Cove.
There are four free Lane Cove Council car parks in the Lane Cove village. Parking should not be a problem. Please pay us a visit. We are, Xara Skin Clinic™ Lane Cove, North Shore access via Birdwood Lane. We are the North Shore's best secret.