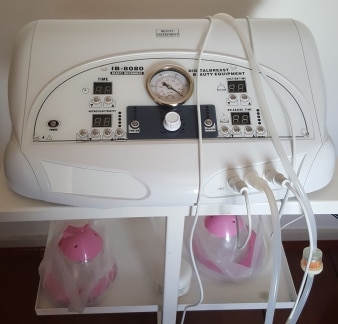 Natural non invasive breast lift enlargement Sydney safe
Natural non invasive breast lift enlargement Sydney safe
We have our new breast/buttocks enhancement/lift machine today. It is the very latest in breast enhancement machines, the best, safest and most effective we could find. So, we have taken it for a spin and can say, yes it gets results. If you are after a lift or just larger breasts or buttocks, then this will do it for you. If you have nipples that are small or inverted, this will fit it for you. Each treatment consists or more than one treatment and we know each treatment by its self-works. Because we have try every treatment and if we get great results, so will you.
What does the machine do?
Breast lift
Improves the feel of the breasts
Firms breasts or buttocks
Enlarge nipples or inverted nipples
Recovers breast elasticity
In other treatments
Removes blackheads
Reduce dark eye-sockets
Thin the face
lift saggy canthus
What does it feel like?
It uses a combination of vacuum suction, rhythmic suction. vibration, micro electricity, RF and cream. The feeling is rather pleasant and stimulating. After the treatment you will notice larger more lifted breasts, which will continue to improve over a period of a few weeks. After three treatments you will notice the difference and so will others.
Benefits
No injections
No knife, non-invasive
Great for breast health and it's effective
No scars
Almost risk free, the risk really are so small compared to the surgical option
Nothing foreign in your body, to move or cause problems
No recovery time
Stop when you want
Low cost
Why wouldn't you try it?
Get noticed and feel more confident with larger fuller breasts, after all you only have one lift and if larger fuller breasts is what you are after you can have them. Using a natural treatment that is safe and effective. What more would you want?
Don't forget to check the specials link at the top of every page.